Accelerate Learning Like Never Before
Our dynamic online learning platform engages students in a project-based learning curriculum aligned with competency-based assessment, communication tools, customizable progress reports, and learning resources. Our easy to navigate and elegantly designed dashboard includes everything students, teachers, and administrators need to guarantee success for students including customizable progress reports.
▶ Flexible, Customizable, Easy Use, Cost Efficient
▶  Engaging, Intuitive, Robust Experience for Teachers & Students
▶  Easy Access to Live Sessions & Schedules
▶  Student Friendly Rubrics
▶  Student Voice & Choice
▶  Teachers can Modify & Add to Curriculum
▶  Evidence Based Success (Cognia Award Recipient)
Where Learning Becomes Reality
Centric platform has a library of 1000+ projects and 50+ courses that engage learners in real-world learning aligned to state and national standards. Each course has a variety of projects based on the interests of learners, giving them choices on how to complete the course.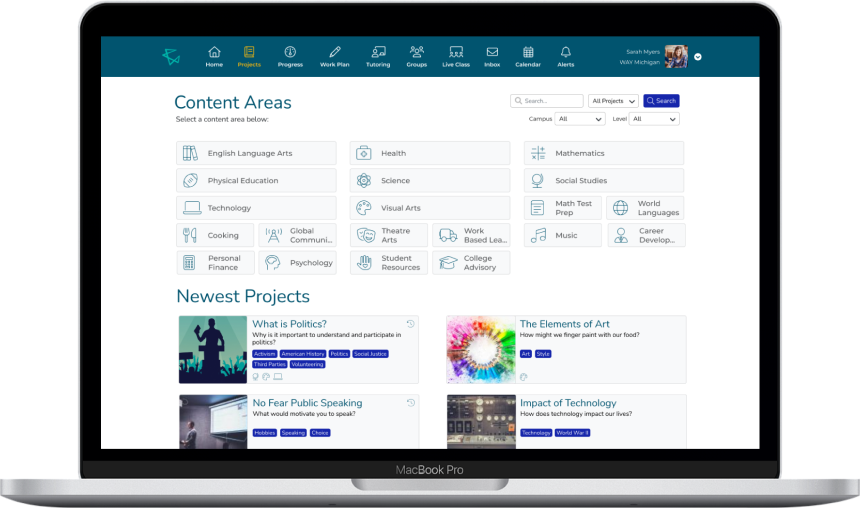 A Meaningful Grading Method
---
At Centric Learning Academy, learners make progress by mastering learning outcomes. Our platform helps teachers give quality feedback and meaningful grades by breaking down each national standard with rubrics.

Explore Centric Platform Features
Discover all of the features students and teachers have access to on our platform to facilitate learning, give feedback, and communicate effectively in real-time.
Ready to Get Started?
Connect with us to learn more about enrollment and course offerings at Centric Learning Academy.